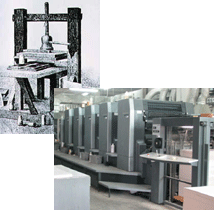 FSI creates the rare mix!
FSI uses cutting edge technology in both itsí printing and online services in combination with old school quality, service and attention to detail.
Maintaining the traditions and qualities of old fashioned printing combined with the latest and most sophisticated print technology keeps FSI ahead of the competition. FSI never forgets that consistent quality, service and value (old school) while evolving with technology (cutting edge) keep us as a print and direct marketing leader.